Labradoodle Holiday!? We had a great time this weekend! We got to host lots of different families all with individual needs and our Labradoodle family loved it!
It is so much fun watching the different families choose a Labradoodle puppy, some need a quiet Labradoodle, others need it brave, and still others need an out going playful Labradoodle puppy to join the family! Some families agree right away while others are quick, but it makes for a great day and lots of laughs along the way!
Four of Zephyr's miniature red Australian Labradoodle puppies found a family this weekend. These puppies are the most friendly little ones and were not at all shy to meet all the families that had booked an appointment! Three of Skye's medium Australian Labradoodle puppies also got to know who they would get to live with forever! All of these puppies are all very happy with the family that "they picked" and the families are all in for a great treat! We are so pleased with the temperaments of each of these puppies and are proud to be having them go out into the world to make a name and a place for themselves! All of them are friendly, quick to learn, and love to be a companion to a special human or group of humans! They know no enemies and love to be loved!
We also celebrated a family birthday and had a great time with family and friends, along with a church picnic! The weather was perfect and so we got to spend the majority of our time outside! We even did most of our Labradoodle puppy choosing outside as it was just so nice that the puppies had a great ti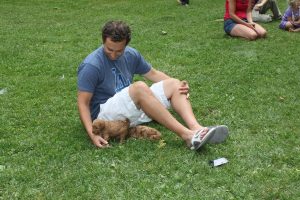 me dozing and playing in the sunshine!
Join us ~ Your local Australian Labradoodle breeder ~ next weekend for your own experience of playing with Labradoodles!! It is sure to be a good time!