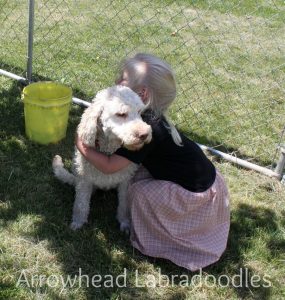 Thanks!
Actually, on the name front, on the drive home Jen said to me that she didn't look like a Ginger or a Pepper. So, we spent the 90 minute drive back to London thinking of a name. We ended up accidentally falling on Charli (the girl spelling – the boy spelling is Charlie). She seems to have taken to it quite quickly – just a week or so. She has settled in to our home (and city life) quite nicely. The cars are giving her – still – a bit of a startle when we're out for walks but she's made much improvement. Her ears have been good – in fact, our vet recommended giving her a ??? every day and that seems to have helped a lot. And we've been feeding her twice a day to get her weight back up after her surgery and she has bounced back very well. She is very happy and playful and really enjoying everyone! She's even made a trip or two into my office at Western University with me. She just sleeps on my couch and enjoys the students who come by to talk or pray. In this way she is continuing her role as the greeting committee very well. You trained her very well. In fact, if you have any others you're retiring we might be quite interested in a pal for her. Just let us know.
Mike
………………………………………………..
We were sorry to see this gentle beautiful girl retire and leave us, but with a beautiful story like this to reassure us we are pretty confident that we did the right thing! It is such a bitter sweet time to retire a girl that has been a loyal companion for years and then to say, good job and see you later is rather one of the saddest parts of being a breeder! We are thrilled that Dew Drop / Charli is doing so well! We are also very grateful for families that are willing to adopt our retired girls giving them a lush retirement!!
This one adoption makes it possible for many families to be able to adopt one of these amazing Labradoodle puppies and makes it possible for Arrowhead Labradoodles to continue to be a trustworthy and responsible Southern Ontario Australian Labradoodle breeder.
We love to see you smile!