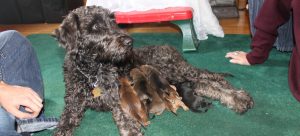 Adventures in Canine Midwifery
On Thanksgiving my mother and I decided to visit the Erb family and their dogs to share stories of how our labradoodle Duke was loving being a part of our household. Once seeing how nicely Duke played with the other puppies and how well he behaved Luke and Connie posed the question of fostering one of their females. This was an exciting proposal. After a couple of weeks of serious discussion and deliberation my mother and I decided to bring Misty home with us. Luke informed us that Misty may be pregnant and was probably two weeks into the gestation period. That did not sway our opinion of this gorgeous girl and we agreed that we can simply bring her back to the Erbs in time for her to carry out the last couple weeks of the pregnancy and have her puppies there.
Once at our house Misty slowly adjusted to the new setting and even became friends with our cat who likes to think that he is the head of the house. Seeing how easily Misty transitioned to living with us was incredibly pleasing but nothing could prepare us for the surprise Misty had for us.
We noticed that Misty started becoming less active and that her belly was getting bigger. That could only mean one thing: Misty's pregnancy was further along than we anticipated! We promptly contacted the Erbs to let them know that the big day was coming sooner than expected and arranged a day to drop Misty off.
Fast forward to November 12. A bulging Misty was very tired and showing signs of going into labour. My mother and I hurriedly set up places for Misty to get comfortable and let nature take its course. By midnight Misty was pacing and frantically looked for a nest to lay down in. Four hours later it started. Shocked by the initial contractions Misty gave us such a bewildered looked which told us everything. At 4:15 on the morning of November 13 Misty brought the first puppy into this world on the floor of my mother's bedroom. Fifteen minutes later a second puppy was born. Around 5 o'clock the third, 5:30 saw the birth of puppy number four. By roughly 7:00 Misty had introduced seven little puppies into the world.
For a first time mother Misty handled everything exceptionally well. The first three puppies were dutifully tended to. Amniotic sacs removed, cords chewed, and puppies cleaned. Naturally Misty became tired after a while and that is where we had to step in as canine midwives. Thankfully we had done enough research and watched YouTube videos of the birthing process.
It was an experience we will never forget and we bonded so much with Misty and her litter of puppies.