New things are happening at Arrowhead Ontario Australian labradoodle breeders! We are so excited to be able to tell and show you the newest Labradoodle puppies that we have added to our program! Both puppies are just too sweet for words and have wonderful confirmations and very pleasant personalities!!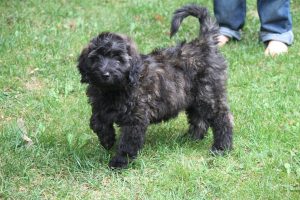 First we have a medium sized female, we chose to name her Waltzing Matilda and call her Tilly for short! She is just the perfect example of what a Labradoodle should be, she is soft in temperament, easy to train and has an exceptional soft fleece coat. Her coat is also a fun mix of chocolate and black and so we are excited to see what it matures as! Tilly has Bobbi for a grandfather which is why she has the beautiful coat and also that super soft fleece coat! Tilly is a LOVE< LOVE< LOVE!!!!!!!!! Watch her here on her first evening home from Indiana!  http://youtu.be/PO3UA7dnyeg
Second we have decided that Sweet Chilli Heat just needs to stay here with us! Chilli is a male from Comet and Flame, he has a beautiful square face and a great confirmation, his personality is just beautiful. All the families with a Comet Australian Labradoodle puppy, have a real treat on their hands!! Chilli wears a non shed coat of wool/fleece, we are looking forward to him siring some Labradoodle puppies, as he will add a gentle intelligent touch to every one of his Australian Labradoodle litters!