All of Ontario Labradoodle breeder, Arrowhead's Australian Labradoodle/ Cobbadogs are fully tested before they will be mated and any Labradoodles not passing the testing we have planned for them to do, will be rehomed and not used as potential adults in Arrowhead breeding program of southern Ontario. Arrowhead Ontario Labradoodle breeders, work hard to ensure that every Labradoodle puppy being adopted into homes from our home are healthy and this starts with healthy parents.
Yesterday was a big day for us, we have had Multi generational Australian Labradoodle Cobberdog Remington and also Australian Labradoodle Cobberdog Rena hip and elbow tested at our veterinarian several weeks ago. We needed to wait for OFA to send us the test result in the mail and this takes several weeks get back. Much to our pleasure and delight both of these Labradoodles were given a score of excellent on the hips and graded perfect as well for the elbows.
For the scoring of hips, you can be given a score of excellent, or good, or fair, then you can drop down into the scores of boarder line, or mild, moderate, or severe hip dysplasia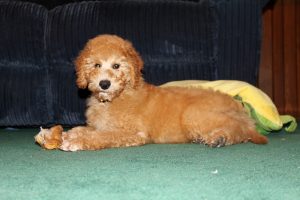 . If a Labradoodle is tested and scores below fair we would not use the Labradoodle to be a candidate to further this amazing Australian Labradoodle breed. Ontario Labradoodle breeder Arrowhead takes the health of each parent seriously and this is directly seen in each and every puppy that is adopted from us.
So pleased with the results!! Good job Rena and Remington!!