Hi Connie and Luke
Sorry it has taken so long to give you an update on Charlie but it seems hard to put into words how perfect of a dog Charlie is.
He fits into our family like he has been here for years.  We could not have asked for a better dog!  You were exactly right about his temperment, very calm and loveable.  He constantly wants to lick us and be near us and always looks to us for direction.  He never barks, jumps on furniture, or begs for food.  He is also very calm when meeting other dogs on the street.
He took 2 weeks, exactly as you said to settle in and get used to us and to be fully house trained.  He is also very good in his crate as he sleeps there and is in it when we go out.  He is also very good in the car now, initially he seemed to get quite motion sick but he seems to have gotten over that and settles into the back seat with the kids now and usually just sleeps.  Mackenzie has taught him to sit and fetch a ball and we are working on "come" but he is sometimes a bit stubborn with that, but he usually does in the end!  Initially when taking him for walks it was so funny – he would want to just lie down on the street, he was hilarious but frustrating too.  Neighbours and friends just love him, they can't believe he is a puppy because of how calm and laid back he is.
Recently we took him on a camping trip where he slept with us in a tent during thunderstorms and a lot of wind.  He just curled up with the kids and didn't say a word all night!  I was amazed at how he can adapt to any situation.  He also likes going for boat rides but seems to insist on getting very close to the edge – we got him a dog lifejacket.  He hasn't fully swam yet but has gone in up to his belly and doesn't mind.
Mackenzie has also taken on a lot of responsibilities with Charlie, she walks him every day and is always reading about how to care for dogs and has become quite knowledgeable.   Charlie has been an amazing addition to our family and we love having him here.
Thank-you for bringing him to us and for the time you took to train him.
Sincerely
Jeff and Lianne
Connie & Luke
Thought you might like to see how Max is making himself comfortable. We call him our little cuddle bug because he always wants to be on our lap.  At this moment all 4 of us are squished on the couch together – lol. First time we've let him up here and it certainly won't be the last from what we've learned about him. 🙂


I think he is settling in really well. He is super calm for a 5 month old pup.  House training is going pretty well. He definitely knows what I want him to do when I tell him to go potty. Best part was your advice about covering his crate. He is way more relaxed in there.  Thank you so much for that tidbit. Last night he went in there all by himself at 9:30 – I guess we tuckered him out too early.  When my alarm went off this morning he was just quietly waiting for us.  Today he spent two nap times with no barking.

Thanks again Connie & Luke.
Cathy
Through the whole process, Connie and Luke were very kind and patient with our questions and concerns as first time pet owners and their expertise gave us a reassurance for when Brody was to come home with us.
Connie and Luke also offered to house train Brody which we felt would be beneficial and we certainly do see that it helped with the transition into our care and we would certainly recommend it to other potential Labradoodle families.
On September 12, 2013 our long anticipated wait to pick up our pup arrived!  We rushed out of the city to drive up to Gowanstown and we were greeted at the door with our cute little Brody wagging his tale upon our arrival! Connie took the time to go over all the paperwork and records we would need and sent us home with an unexpected take home gift.  A very kind gesture it was.
We are so thankful that we found the Erb's and the fantastic breeding job they do.
It has been a month since Brody has been home with us and he has expanded our hearts with so much love and enjoyment.
Thanks again Luke, Connie and Your Adorable 3 Children.  We look forward to seeing you again at next year's Doodle Romp!
~Kevin & Amanda Saxon
I love seeing the pictures you post of all your puppies in their new homes!Thought you might like to see a recent one of our Tilly. This is right after her first grooming appointment – she is not usually so fluffy!As you can see she is slowly turning a lovely silver colour. She's doing well with her training and we are constantly amazed at how smart she is! She keeps us busy and loves our active lifestyle. She gets lots of walks and runs. Our daughter Amelia loves her and they are great companions.Hope you are doing well!Steph, Rob and AmeliaHi Connie & Luke,

I thought I'd send you that long planned update on our wonderful puppy, Sammy, before heading back to the busyness of life after the cottage.
Sammy (Comet & Bentley) will be 8 months old in a couple of weeks. Hard to believe! He's grown so much, as you can see from the photos I sent you. He's been to the groomers twice so his most recent photos are of his short summer cut. I prefer the fluffier look so he won't be going back to the groomers for a while.
He completed puppy school, levels 1 & 2. He was the most "enthusiastic" puppy in class, always full of energy! He has learned "come, wait and stay for longer amounts of time, figure 8 walking on leash, heel, lie down from a distance" and lots more commands. We're still working on his distance recall but it'll come as he matures.
We take him to doggy daycare once a week and he LOVES to play all day with the other dogs! He also loves meeting new dogs and people on walks. The overwhelmingly consistent comments we get are how friendly & loving he is, how soft his coat is, and how beautiful his colouring is. He does love everyone, greeting and licking them! He greets us every morning with enthusiastic licks and "hugs" too!
He accompanied me (Carmen) to boot camp for dogs and their owners over the summer, getting more obedience and exercise there.  He also LOVES his walks, hiking, and going to the Farmer's Market where he meets so many dogs! He adapts so well to new environments, like my mom's house and the cottage.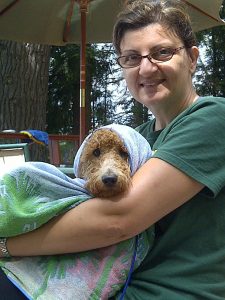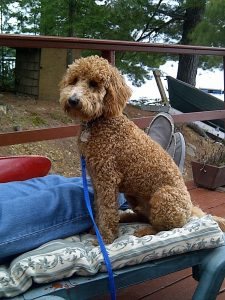 We're quite happy with how he is growing and progressing and he's such a wonderful puppy! Lots of energy and intelligence! We continue to keep the goal of him being a therapy dog uppermost in our minds and try to expose him to as many new experiences and people as possible. Everyone loves him already! We can't wait for him to share his cuddly, friendly energy with others as a therapy dog some day.
You already have a few photos, but I'll send a couple more taken recently.
All the best with your new puppies and upcoming litters! The new puppies are all so adorable!
Carmen Martino-Sedivy & Family
 Dear Connie, Luke and Family!!!
Firstly, I must apologize for not sending you an email sooner!!  Things have been very busy since bringing Copper home about a month ago now.  Time flies and it's been fun!!
Copper is doing amazingly well and is so very cute!!  It took Copper about 4 days to get used to his crate and after the 4th night, he sleeps like a charm and doesn't peep.   He absolutely LOVES his crate and often you will find him walking in there to grab a toy or to go for a rest!  By 10pm, he literally walks into his crate and puts himself to bed for the night. He gives us a "kiss" goodnight and falls off to sleep and we simply close his crate door and he wakes with us in the morning!
 He is already toilet trained and actually will come and nudge our leg or sit in front of us to get our attention, and then he walks to the back door.  We put a leash on him and take him to the same spot in the backyard to which we say, "Go duty" and he goes on command!  We've been trying to use the poochie bell but he's afraid of the bells!!  Too funny!
 Copper truly is an absolute gem and the bond we all have with him is precious!!  He truly is a member of our family!!  His disposition is incredible and he LOVES to cuddle!!!  We're having fun training him…he's such a smart boy!  Puppy classes are fun and he's doing great (although I think the classes are more for us than Copper!).
 As you know I'm very allergic to dogs.  This was of course, one of my concerns as to how I would make out as even with "hypoallergenic" dogs, my allergies were still a problem.  I'm happy to say, my allergies have been fine!!!  Copper does not shed at all, and on the odd occasion I'll break out with a few hives or my eyes will bother me a bit but nothing that's bothersome in the least, and like I said, this has only happened on a few occasions!!!  Raine and Flame certainly made beautiful pups and definitely produce pups that are great for those that have allergies!! I do hope you are all doing well!! Take care Connie!! Sincerely,  Dave, Nicole, Myiah and Copper!!
 This note has followed!   ~~~   Yup…we're guilty as charged for bragging but hey, we are proud owners of, what I would say, is the cutest, most loving and playful labradoodle pup ever!!! 🙂  I can't get over how much joy "Copper" brings to our family!!!  Everyone needs a labradoodle!!!
 Copper "graduated" from puppy class last week!!  He's doing amazing well.  I can't believe how smooth things have went and how quick they learn!!  I've attached a pic (his graduating pic).  I agree…he's long overdue for a puppy trim…he's going for a cut this Friday!!!  🙂
Thanks again Connie. We truly are so happy with Copper!!!  I have no doubt that the other pups you have will also be wonderful new additions for other families as well.
 Have a safe and enjoyable summer!!
 Nicole, Dave, Myiah and Copper!!!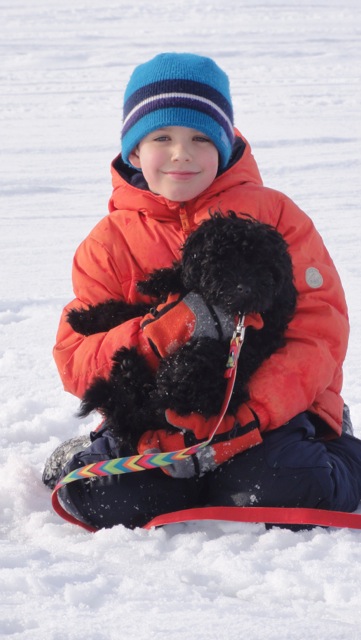 Dear Connie and Luke,
We just wanted to formally thank you for Mickey and Frankie. They couldn't be a better fit for our family. They are super sweet and fun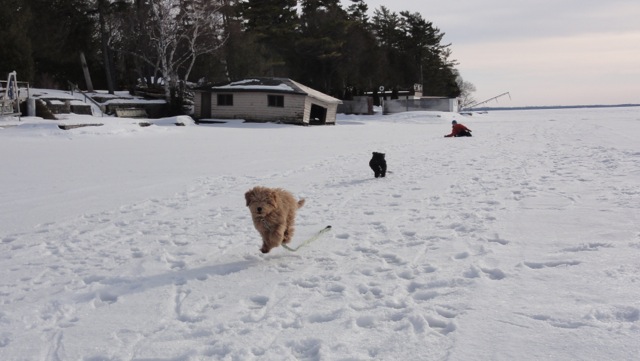 loving. They are wonderfully gentle with our young boys and really love to play with them. We continue to be amazed by how agile and athletic they are!
We took them to our cottage for the first time last week and they ran like the wind. They jump over things that are higher than they are without even slowing down – it's incredible. We're pretty sure Mickey has springs in her feet 🙂 They are the best of friends and play together constantly. We really couldn't be happier with them. They are learning very quickly – even our trainer is impressed by how eager they are to please and how quickly they catch on. They have brought SO much joy and fun to our family. It's very obvious that you make your breeding choices not just based on appearance (they are the cutest dogs in the world), but also on winning personalities.
My calendar is full of people who want to visit just to see the dogs again because they are so amazing that everyone falls in love in a single visit! Here are a couple of pictures of our sweet puppies. We took them for a walk on the boardwalk in our neighbourhood last weekend and we were stopped at least 15 times by people asking us what kind of dogs they were or where we got them because everyone thought they were such cute, sweet puppies. They were so well behaved – not jumping up on people but sitting and wagging their tails – waiting for people to pet them. They were also awesome and friendly with all of the dogs we met on the walk. The walk took us at least three times as long as it should have because they were so popular! One man even ran back down the boardwalk after us about 10 minutes after he had met them because he and his wife couldn't stop talking about how perfect they were and he wanted your contact information 🙂
Thanks again, Krista & Brad
……………………………………………………………………………………..
Goldy is potty trained already stopped barking on her 2nd night here. She let me bath her and enjoyed it completely docile. I brush her teeth no problem. She sits under the table at restaurant and doesn't bark or beg. This puppy is out of this world. Whatever you are doing with your dogs is amazing! We start obedience school at our community center April 1st….not that she needs it at all.
Christina and Emma and Goldie!!
………………………………………………………………………………………………..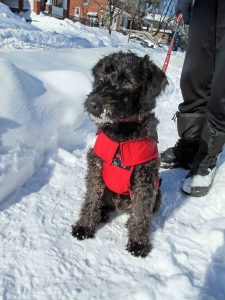 Thanks Connie and Luke, for all you did to make him such a good dog.  He is a perfect boy in his crate at night and working on his house-training and accidents are rare, and always that we missed a cue. He has not got the hang of the bell system (we are working on that) but he does give us useful hints.  He has learned a lot in just under 3 weeks (sit, down, stay, come, leave it, that's not it, and we are working on throwing him a ball and having him bring it back and "drop it" and he has started loose leash training).
He has had to get used to so many scary city things, and he is adapting really well.  He is used to traffic, sirens, bicyclists, cross-country skiers,
and has had some entertaining encounters with a snowmobile, and a guy on a sled pulled by two gigantic huskies (honestly, you never know what you will see on the trail around here.)  He has been to training and puppy socialisation classes (which he loves), and the trainer says he is "intelligent and sensitive".
He LOVES snow and everything to do with winter, is fond of garbage (!) and the hiking trail at the park, and we have been on many long walks each day, despite the rather wintry February we are having.  Thank goodness I found my snow pants after freezing for two weeks! Merlin loves meeting other dogs and enjoys playing with his toys and chewing on bones in the house in the evening.  He is also very good at the vet's.  When we get our yard fenced, he will have a blast racing around out there.
Thanks again, Connie and Luke!
Happy New Year Erb family!!

I feel awful I have not really been in touch at all.  I keep thinking of you all the time about sending an update about Riley and what a truly wonderful dog he is!!  We feel like we hit the puppy jackpot.  We have had nothing but fun and good times with him.  Everyone we run into on the street comments on what a cute dog he is but also how calm and well trained he is which we owe all to you as we have not done any formal training yet just our own.  I am going to start in the next month with someone as my mother has been in the hospital since late September and is finally getting out next week so I will have a lot more time on my hands.  He has been such a dream dog so many people have puppy nightmare stories and we have had no issues at all, any time he has ever peed in the house which has only been a handful I can honestly say was our fault by not letting him out in time.  He totally uses his bells which is so helpful, no one can believe that our dog actually rings bells when he need/wants to go outside!!  We are finally taking him for a full blown cut on Thursday, he has gone in a few times for trims around his eyes but this time he's getting a full cut.  The snow has been clinging to him like crazy, it will be sad to see his puppy hair go but it is definitely time.  Again we can't thank you enough for our sweet little pup, I tell everyone who asks about what a wonderful breeder you were and how caring you were to Riley that month you had him in your house, I would recommend that option to everyone, it was our saving grace!
Wishing you all the best and hoping that you are all well and enjoying the winter!
Best wishes,
Lindsay, David, Campbell and Riley
We recieved a very nice Christmas note from Sunny, he is a son of Bree and Tucker and is going on three years old! What a good looking young male!
Hi,
Just wanted to say hello and a huge thank you for raising such a great dog we have in Sunny (Bree & Tucker 2010) he is so smart and caring!!!
I hope all is well and hope someday to come and visit all of you at the farm!
With kindest regards,
…………………………………………..
Merry Christmas from Abby.
I just wanted to take a minute and let you know that Abbey is a happy, healthy puppy. The vet thinks she is pretty much full grown – she was there today for her 6 month shots. She is about 14" at the top of her hind end and weighs just under 12 pounds. She has been a great joy and the cause of much laughter. We decided to have a table top tree this year instead of our usual live tree just to make everything less stressful. Here she is seated next to it on one of our pressback chairs. It is regular size but reminds us of the pictures you took of her just before we adopted her.
Hope your family has a wonderful Christmas.
Cherri
>>>>>>>>>>>>>>>>>>>>>>>>>>>>>>>>>>>>
>>>>>>>>>>>>>>>>>>>>>>>>>>>>>>>>>>>>>>>>>>>>>>>>>>>>>>>>>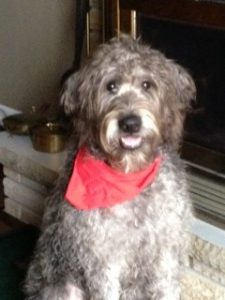 Hello Connie, Luke and Family,
Here is a Christmas picture of our little Finnegan. He's not so little any more, about 43 pounds now.
He loves retrieving and catching anything we'll throw to him.
He has been going for training and loves to run with his friend Lexi Beech.
We wish you and yours a very Merry Christmas and a Happy New Year!
Finnegan, Daniel, Lorraine and Family
she is has brought many good times to our family.
Most of all she has settled in as part of our family just wonderfully.

…………………………………………………………………..
……………………………………………………………………………
…………………………………………………………………………………………….
……………………………………………………………………………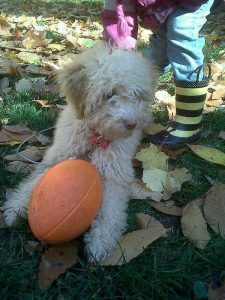 I just wanted to update you on our little Chloey.  She has been with us for just about 4 weeks and she is doing great.  She survived the 3 hour drive home without any issues at all and I didn't even need to use the probiotics you gave me as she adjusted just fine.  My children were so surprised when they saw her that my son broke out into uncontrollable tears.  My son and Chloey have been best friends ever since.  She is such a great little companion for the kids.  They have taught her to "shake a paw" and "peek-a-boo" in less than an hour and she listens to them without a problem.
I have to be honest, I didn't think with my "A-type" personality having a puppy would be a very good idea.  But I am getting used to her.  Connie, your 4 weeks of training made all the difference in the world.  Chloey came to my house and she was sitting on command and staying.  She does not walk on my carpet and does not attempt to jump or chew on any of my furniture. My children leave their toys around on the carpet and she does not try to take their toys. She rings her bells every time she needs to go outside and we only had accidents for the first 6 days until she got used to us and we got used to her.  My daughter can climb into her crate and take toys right out of her mouth without Chloey even trying to bite her.  My children have even taken her food away and she just sits back and doesn't bite, growl or jump on them. We have never had an accident in her crate overnight and she never whined in the night at all. We do not use treats to continue to train her, just lots of praise and love.  Your training was priceless, especially for a house hold who has never had and never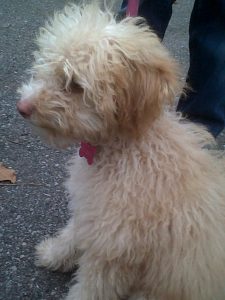 grown up with animals. I can see just how easy it is for a puppy to become out of control without the proper training.  I also wanted to thank you for all the support and advice you have given me since we have brought Chloey home. I know I asked a lot of questions and I could not have done it without your professional help.
Her vet check went great, the vet even commented on how well behaved she was for a three month old puppy.  Everyone who walks by has to stop and pet her and they comment on how good looking she is with her green eyes. She is very intuitive and knows just how to behave with every member of our household.  She loves being outside in the rain, cold, wind and wet leaves and that is what I have to get used to dealing with. Everyone laughs when they find out I got a puppy.  They all say that a wet dirty dog in my house is good therapy for me and that I should loosen up after a year with a puppy.  I will not lie and say that having a puppy is amazing, it is a lot of work and many adjustments must be made at home. For anyone who has never had a puppy, I suggest having him/her trained correctly in order to have a wonderful experience. And as
for a dirty puppy, I still cannot deal with that and I must bathe her at least once a week. I do not have to wrestle with her anymore and she knows when she needs to be cleaned and washed.  The ear cleaning is great also, she just sits and lets me clean her ears without squirming.
I will send you a few pictures of Chloey and feel free to use them on your site.  Thanks again for your continued advice and support.  My family is blessed to have met you and your wonderful family.
Take care,  Dr. Ali
The (Mis)Adventures of Training an Australian Labradoodle
It began as we were waving goodbye and tucking our new little puppy in for the ride home….Luke's last words were, "You should probably consider some training for her.  She is part Wheaten."   What a prediction that comment turned out to be.
 I thought that Puppy Class I would be a breeze, as she already knew the basics.  We soon learned that a "Wheaten Greetin" meant leaping up to say hello to everyone. I hadn't taken into account that our sweet, brilliant, eager-to-please puppy when given an opportunity to embrace her inner social butterfly would become blind and deaf to all commands.   She was "Miss Congeniality" with a wagging tail.  The trainers just shook their heads.  After every class I vowed never to go back.  Bree snoozed.
On exam night, I took a few deep breaths, two Tylenol and faced the panel of judges.  Bree sat at my side looking up like an angel.  When we were called up, she wove in and out of the other dogs on a loose leash without taking her eyes off of me.  No sharp noises or bouncing balls could disrupt her "stay".  She greeted people with her bottom on the ground for the first time ever.  On the final test, a long distance recall, she ignored the kibble that was dropped at her end and flew down the room to me, skidding the last 10 feet on her bottom and stopping in a perfect sit at my toes.  There was a standing ovation from the audience as she passed with EXCELLENT in every category.
It is over.  We did it.  And it was worth every stress filled moment.  Bree (mostly) walks beautifully, (usually) responds to commands, and is still brimming with happiness every day.  She is a joy to live with.  And yes, she continues to practice the "Wheaten Greetin" at every opportunity. (Barry and Cathy)
Thank you so much for our boy Rooney.                     His sweet and loving personality melted our hearts the moment we saw him, and two years later he continues to be an integral member of our family. He is adored by all who meet him, and he greets every person that we pass on the street, which is always followed by a smile.
He is an active dog who enjoys any activity that takes place outside; especially hiking, swimming, and playing fetch. Although he loves the time he spends outside, he is a great cuddler who will do anything for a tummy rub.
He has been an amazing fur-brother to our 1-year-old son Hayden. We look forward to the day when Hayden can throw the ball to Rooney instead of mouthing it!!
You should be very proud with the quality of puppies you produce. Thank you again for bringing Rooney into our lives, we appreciate him each and every day.
Sam, Hilary, and Hayden
Charley says he would be honoured to have his photo on your website, so by all means go ahead and use the photos I sent or any future ones I may think capture some of Charley's many wonderful traits. Your new website is darling!
Charley has just started to sleep in our bed with us and he surprised both of us with his quiet and still behaviour all night! He absolutely loves to be with us and he has "asked" to sleep in our room many times but because I am such a light sleeper, I thought it best not to be disturbed. He has convinced us that he is very capable of allowing everyone to "rest in peace"!
After losing about 10 hand towels to Charley's chewing…the ones on the counter beside the sink in our mudroom which is Charley's room as well….Keith came up with an idea to set a mouse trap on top of the towel well back from the part that Charley would attempt to grab. It worked perfectly. Charley was so shocked at this material that snapped at him that he hasn't touched a towel since! We repeated the technique with one of Keith's socks (after losing several, including Keith's favourite riding socks!) and he hasn't touched another one of those either! Otherwise, Charley has no bad habits and continues to make us smile even on the dullest days!
We wish you well at the doodle romp, and look forward to seeing pictures of all your four-legged guests!  Take care, Lois
Hi Connie and Luke,
Hudson has been apart of our family for almost 4 months now. He makes us laugh everyday with his charming and loving personality. He's been a true companion since the first day we brought him home. He adjusted so well to his new surroundings and was trained within a couple days; he truly is a smart little guy. He graduated from puppy obedience class with flying colours.        Hudson loves nothing more than going for long walks along the waterfront, doing tricks for treats, and being a social butterfly around the neighbourhood with all the other dogs (particularly a labradoodle around the corner named Marlie). He is a great travel companion and loves going for rides in my Jeep; especially when the top is down, the doors are off, and his fur is blowing freely in the breeze. He definitely loves the outdoors! He also enjoys a good belly rub which results in him bearing a huge grin (yes, he actually smiles, it's hilarious to see!).  He's about 50 pounds now but that doesn't stop him from cuddling on my lap or sleeping beside me with his head on my pillow. We constantly have people asking us where we adopted him from, as his cute teddy bear looks and loveable nature always wins everyone over. He always gets comments on his beautiful chocolate coat, big hazel eyes, and playful attitude. I can't imagine life without Hudson !! Thanks again for introducing us to the newest member of our family.
Looking forward to the Doodle Romp this Saturday! Attached are a couple pictures, I have so many it was difficult to choose which ones to send                                            Ashley
hi there, We have a funny picture and story about Stanley to show you.
Last summer at only 8 months old, Stanley went on his first trip to wasaga beach. When we got there he was so curious to where he was and wanted to explore the whole beach. He learned to swim before we went to this beach so he was ready to go swimming, which he did and swam with us as far as he can go until he got tired. After his swim Stanley discovered that digging in the sand was possible! So he dug himself a nice deep hole, which impressed us for such a young age. After he completed digging his hole, Stanley went sniffing in it and decided to lay down in his hole looking as proud as can be! We have sent you a picture of him sitting in his hole looking comfortable and proud of his work. Stanley is just a bundle of joy to all of us and puts a smile on everybody's face each and evey day. Paula
………………………………………………………………………………………………………………………
………………………………………………………………………………….
……………………………………………………………………………………………
……………………………………………………………………………………………………………………………
…………………………………………………………………………………..
Hi Connie and Luke,
It's been a month and I thought you may like to see how big Miley is getting.  She's already 13 pounds and full of spunk.  She's a smart little girl, maybe a little too smart for her own good.  She is pretty much house trained with the odd accident every now and then.  She can sit, shake a paw and lay down.  She is an amazing retriever.  Since day one I can throw the ball and she brings it back to me and drops it in my hand.  She knows I am the boss but loves to test me.
We are very proud of her and I definately chose the right puppy.  We need to work on walking on the leash because she likes to play tug of war.  I signed her up for puppy Kindergarden and we start on the 25th.
Hope all is well with the other litters.
Take Care, Laurie
………………………………………….
…………………………………………………………………………………………………………..
……………………………………………………………………………………………
Good morning Erb family,
Thought I would send a few pictures of Bailey (formerly Buster).  Some pictures are from the fall and some are recent.  He is about 25 lbs now.  He is a great dog, we couldn't have asked for a more perfect fit.  He is smart, playful and calm.  We get stopped by children and adults to admire and pet him.  He loves children (we don't have any yet), I think it's because they are at his height level also because of your children who he used to play with.  He has begun to get a curl around his neck which is so cute, you will see it in the pictures.
Thank you so much. Ami……………………………………
……………………………………………………………………………………………………………………………..
It is hard to believe that Tucker is 5 months old now.  He is a wonderful family dog. The puppy nipping and biting as stopped and he is teething.   Goes to puppy socialization and classes on Sunday and boy does he look forward to that.  We go for daily walks in the Pit right next to our house and he loves to dig until his heart is content.  He has never growled, snapped or been an aggressive puppy to anyone regards food, toys or bones.  He does love to fetch and retrieve until he is tired and his only downfall is a very short attention span of about 5 to 8 seconds but they reassure us that it will get better as he gets older.  He can shake a paw, play dead and also roll over.  Regards Christine
Here is sweet and cute milo! Hope you are well. Danielle
Dear Connie and Luke,
Jasmine has brought a lot of merriment into our family! She is suuuuuch a sweetheart! We all enjoy her tremendously! She has a fun loving nature, is so sweet and outgoing and friendly, so intelligent, greets us whenever it may be with such joy and excitement…- what a real sweetie she is. All our neighbors think we are very lucky to have her. Indeed, she is a little gift of a blessing!
Things have gone very well since we came to get her, a couple of weeks ago. She cried for about 2 minutes when we left your home, we then consoled her and she fell asleep. The first week we got to know her, and she us. We gave her the den for the night and she has done so well, never a wimper or anything. It is quite amazing. The house-training was accomplished within the first week. She is a smart little one. She loves all the outdoor play and runs, and all the new smells and sound. Then afterward she comes in and collapses into a deep sleep, after all the exercise. She is sooo cute to watch and cuddle and play with. None of this could have been if she had not been raised in her first few months, in such a loving and caring environment, as you gave her. Indeed we have gotten her, already so well trained…all the care and love you have given shows right through, I am so ever thankful for that. It made the transition so much easier for us. Know also that her home here is a very loving one, she gets a ton of affection and love and care. It broke my heart when we put Jasmine in the van the day we were with you… Chocolate came and sniffed at her as though to see what is happening to her little pup….. I was teary eyed. But let Chocolate know that her little Jasmine is in good hands and we do love her.
We hope and trust that you are all well- that Taregan and Rayna are thriving and happy! Our warmest greetings to you all,  Ed and Sarah, Emma and Danielle
…………………………………………..
…………………………………………………………………………………………………
…………………………………………………………………………………………………
Hi Connie We have been meaning to touch base with you regarding our experience thus far with Zak.  To sum it up we are very, very happy with the new addition to our family.  As I had mentioned earlier my wife and daughter had a phobia of animals – the operative word is had. Zak has been very gentle around both of them, it's as if he knows or senses that they are a little more reserved and acts accordingly.  Right from day one he has been nothing less than a 'gentlemen' around the ladies in our home.  Many of our family and visitors cannot believe that he is still a puppy given his calm demeanor.  He loves to be outside, even on the cold days, and would spend the entire day outside if we would let him.  Watching him play in the snow drifts is better than watching television.  He really enjoys playing with his sister Holly who lives in the neighbourhood.  Right from the day we brought him home he has been a joy.  He has slept through the night from the very first night of coming into our home and we had him ringing the bell to go outside to do his business after the first few days. He doesn't bark hardly ever – except for when stranger walk by, but as they get closer all he wants to do is get to know them. He just recently (at mid February 2010) got his last set of shots and was just under 25 pounds and 17 inches.This past weekend we took him for his first full hair – the before and after pictures have been attached along with a few others.  Feel free to use them as you wish. Joe, Penny, Sam and Sofia 
…………………………………………..
……………………………………………………………………………………………………………………..
Hi Connie, Gina (who after much discussion and trying of names, we have re-named Tia) is doing great!  she seemed a bit lonesome on Friday afternoon but then our daughter and her family visited –  hence the long discussion on a new name.  We went to their home on Sunday so Tia got to visit Taz at his place – that went great too, and boy does she love to cuddle with anyone in the family!. She likes looking out our front window at the street and occasionally growling at the passing cars – we have gone for daily walks, with Taz, and they are excellent together and she is getting more relaxed with all these new sounds, smells, and sights. he is eating and sleeping just fine (I will send another email of the picture I took Friday evening, when she tried out her new bed for the first time).  We haven't had any digestive issues either.  I will continue to give her the probiotic once daily until this weekend, and then once every couple of days until it is finished – correct?  I don't remember if you suggested we buy more once this is gone but she doesn't seem to need it.  please let me know if I'm wrong on this point. we took her to the vet yesterday afternoon, and she got a clean bill of health plus much praise for being such a good, calm, relaxed little girl not to mention being the prettiest little dog in the place!!!.  By the way, she weigh in at 6.2 kg (around 14 lbs)  I have also placed an order for more NuVet supplements. Your little Gina, our Tia, is fitting in just fine.  We totally love her and will be sure to recommend Pawpaws Poodles and Labradoodles to anyone who asks us "where did you get this wonderful dog"? it was a real pleasure to meet you and your family – and as Brian said, you are welcome to stop by anytime to visit with Gina/Tia………. Janeth
……………………………………………………………………..
……………………………………………………………………
Hello Connie and Luke,
We just want to touch base regarding our adoption of Zoey.  She was great on the car ride home and adjusted to her new environment almost immediately. She is very happy here and a welcome addition to our family.  She is bonding extremely well with each of us in her own unique way.  She has brought our family closer together and she is welcoming the steady stream of visitors in our home with an open paw.
We love her so much that we can't imagine how we did without her until now.  Everywhere we go, people stop and comment on how adorable she is.  We tell everyone about you and the services you have provided. The vet commented on the great care that you obviously gave her from her coat, to her personality and everything else from nose to tail.  Paul is ecstatic about his role in our adoption, and Barney and Zoey played really nicely this past weekend on their introduction.
The welcome package you sent was packed with the care and love and is greatly appreciated. Hope your new litter is coming along nicely. Anyone who adopts from Arrowhead Labradoodles is truly lucky. We will send you pictures shortly. All our best, The Sigesmund Family