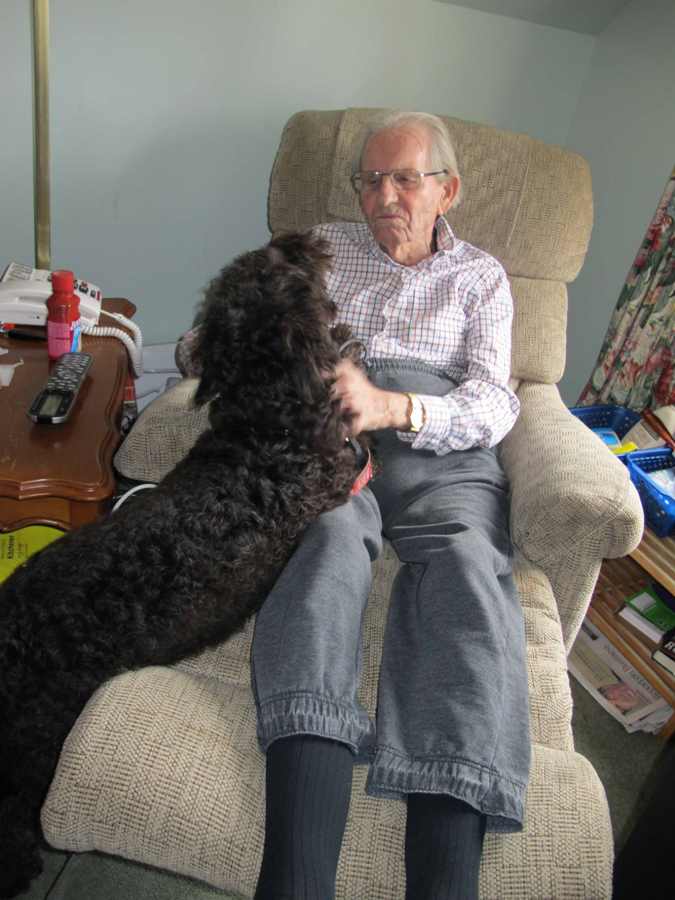 Meet Merlin, again! Merlin is a bit of a wonder dog!!
Merlin is being a fabulous example of the therapy lines that are bred into our Australian Labradoodles! He loves to go with his dedicated humans Bob and Leslie, to see Bob's aging father.  Here is what Leslie says in her e-mail, Merlin also likes visiting seniors in a nursing home. His father's name is Art Bamford and he is 98 years young.  The photo was taken at Hanning House in Cambridge, a retirement home.
Leslie was kind enough to let me share this beautiful photo with you all. Australian Labradoodles are great at bringing smiles and love to all ages and are comfortable enough in their own coats to be comfort and inspiration to about any one any where!  They love to look deeply into your eyes, reading all your thoughts and feelings and seeming to respond to those thoughts and feelings perfectly!!
It has been many months since we have taken any of our Labradoodles into the local retirement home……I need to get doing that! It is such a rewarding time for all of us that go and for the seniors that get to meet our therapy Labradoodles!