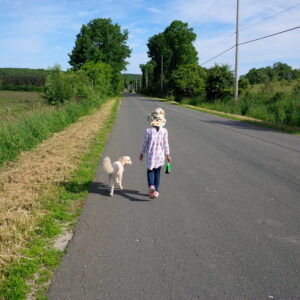 I noticed that I did not get any Australian Labradoodle posts, posted in the month of Sept!! It felt like Sept passed us by in a wiz of activity!!
We took some time off as a family, that was so much fun to be able to leave everything in other peoples capable hands and get away for a memory making weekend with our children.
Sept. was also the month that we started in with Australian Labradoodle puppies again. We had taken a nice break this summer as we were feeling busy enough with the arrival of a new human blessing in our family. So now we are full swing into raising the sweet little Australian Labradoodles. Sunny started us off with one sweet little boy, he is growing like a weed and is about to go home as soon as he has healed completely from his neuter. Comet was next to whelp with a litter of 5 puppies all in tones of red. All of these puppies are doing well as well and all have families. This was an exciting litter of puppies for us as Labradoodle Breeders in Ontario. One puppy will be going to Texas one to Israel and two of them will get to stay twins forever!! There is so much fun in this Labradoodle breeder program.
Rena and Remington were tested this summer, for hips/elbows. Eyes and hearts and DNA. Both Labradoodles passed the testing with no troubles and so we were delighted with that and are so excited to use Remington in our program early in 2015.
The human and drug/hormone free meat has been a big learning curve and apart of our summer fun……….Chickens, turkey beef and eggs have been ready to go. We are still growing the pork and are so excited to give it a try!!
We welcome visitors out to meet us and our wide variety of lovable animals!!! Lots of fun close to home!!!