Sammy, is a red miniature Labradoodle, son to Comet and Bently!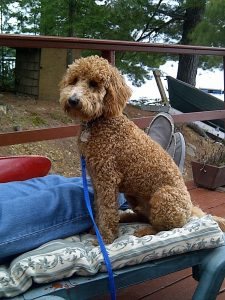 Hi Connie & Luke,
I thought I'd send you that long planned update on our wonderful red miniature Labradoodle puppy, Sammy, before heading back to the busyness of life after the cottage.
Sammy (Comet & Bentley) will be 8 months old in a couple of weeks. Hard to believe! He's grown so much, as you can see from the photos I sent you. He's been to the groomers twice so his most recent photos are of his short summer cut. I prefer the fluffier look so he won't be going back to the groomers for a while.
He completed puppy school, levels 1 & 2. He was the most "enthusiastic" puppy in class, always full of energy! He has learned "come, wait and stay for longer amounts of time, figure 8 walking on leash, heel, lie down from a distance" and lots more commands. We're still working on his distance recall but it'll come as he matures.
We take him to doggy daycare once a week and he LOVES to play all day with the other dogs! He also loves meeting new dogs and people on walks. The overwhelmingly consistent comments we get are how friendly & loving he is, how soft his coat is, and how beautiful his colouring is. He does love everyone, greeting and licking them! He greets us every morning with enthusiastic licks and "hugs" too!
He accompanied me (Carmen) to boot camp for dogs and their owners over the summer, getting more obedience and exercise there.  He also LOVES his walks, hiking, and going to the Farmer's Market where he meets so many dogs! He adapts so well to new environments, like my mom's house and the cottage.
We're quite happy with how he is growing and progressing and he's such a wonderful puppy! Lots of energy and intelligence! We continue to keep the goal of him being a therapy dog uppermost in our minds and try to expose him to as many new experiences and people as possible. Everyone loves him already! We can't wait for him to share his cuddly, friendly energy with others as a therapy dog some day.
You already have a few photos, but I'll send a couple more taken recently.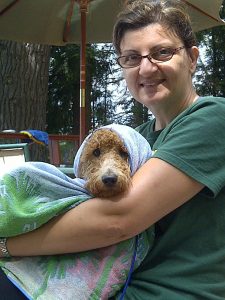 All the best with your new puppies and upcoming litters! The new puppies are all so adorable!
Carmen Martino-Sedivy & Family