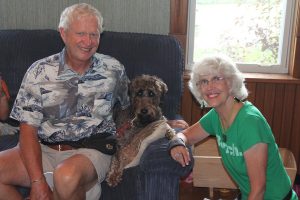 Some times we get asked if these Australian Labradoodles are easy to train and if they can do tricks??! Here id Merlin, just over a year old and doing all kinds of neat things.
Labradoodles are very intelligent and given the proper training and time in those first 6 months of life will become a wonder puppy all your own! At 1 year of age Merlin is Sitting on command in noisy unfamiliar places, he is shaking paw, and jumping. He has done some agility classes and he family is very dedicated to him and his on going training! It was great fun to have him visit us and get to see first hand all the things he has learned!
Come on out some day with your Labradoodle, we would love to host you and see how your Labradoodle has developed and the things that it has learned from you. I do not expect every puppy to do all the things that Merlin does, they don't need to they are still special!